2017 Projects
ENEWETAK SOLAR AND WIND POWERED R.O. PLANT AND MOANA HYBRID SOLAR/WIND POWER GRID, Enewetak Atoll, Marshall Islands.
Preparations are underway. Installation is slated for August, 2017. Power plant consists of two Spectra LB-2800 Watermaking Units with the state-of-the-art Moana Hybrid Solar/Wind Energy Grid to power the R.O., the airport terminal and the surrounding area.
2015-16 Projects and Timeline Highlights
INSTALLATION OF SPECTRA LB-800 WATER TREATMENT PLANT POWERED BY MOANA SOLAR MINI GRID ALSO POWERING THE AIRPORT TERMINAL, Ailuk Atoll, Marshall Islands, August 2016. 
This project is phase one of their efforts to become drought resistant and expand the use of alternative energy, creating water and energy resilience for the community.
INSTALLATION OF MOANA SOLAR MINI GRID TO POWER THE COMMUNITY CENTER, Ebon Atoll, Marshall Islands, April 2016.
This installation marks the first of its kind on Ebon Atoll, and phase one of a larger plan to solarize the community.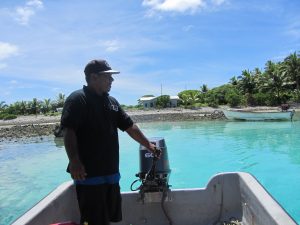 AQUIFER 360 WATERMAKING UNITS DEPLOYED TO PALAU, FSM, April 2016
Moana Marine supplies 4 Spectra Aquifer 360 watermaking units to Palau for their drought relief efforts.
EMERGENCY RELIEF, AQUIFER 360 WATERMAKING UNITS POWERED BY MOANA SOLAR POWER PACKS  DELIVERED TO I.O.M. Majuro, April 2016.
Fifteen portable, emergency relief Aquifer 360 watermakers powered by the Moana Solar Power Pack are immediately deployed to the hardest hit islands in the Marshall Islands, Chuuk and Yap.
AQUIFER 360 WATERMAKING UNITS POWERED BY MOANA SOLAR POWER PACKS TO MAJURO'S WATER UTILITY, April 2016.
Twelve Aquifer 360, plug and play, emergency relief watermaking units powered by Moana Solar Power Packs are delivered to Majuro Water and Sewer Company, ready for immediate distribution throughout the Marshall Islands for their drought relief efforts, April 2016.
PRESIDENT OBAMA DECLARES MARSHALL ISLAND DROUGHT A DISASTER, April 2016.
President Obama'a delaration opens the way for emergency funding to the Marshall Islands.
PORTABLE, EMERGENCY RELIEF, AQUIFER 360 WATERMAKING UNITS DELIVERED TO POHNPEI, FSM, March 2016. 
Two Aquifer 360 watermaking units are delivered to Pohnpei for their drought relief efforts.
UNITED NATIONS DEVELOPMENT PROGRAM (U.N.D.P.), MARSHALLESE GOVERNMENT OFFICIALS AND TOM VANCE OF MOANA MARINE  FLY  TO UTRIK ATOLL FOR OFFICIAL VISIT TO UTRIK'S SOLAR AND WIND POWERED R.O. WATER TREATMENT PLANT, March 2016
The U.N.D.P. team tout our solar and wind powered R.O. installations to be the most successful, cost effective solution for drought and other water challenges occurring around the Pacific today. Referred to now as "The Utrik Method" they want to see it replicated on all islands challenged with water issues to increase climate resilience and bring water and energy security to communities in the affected areas.
MEETING IN POHNPEI, FEDERATED STATES OF MICRONESIA WITH SENATORS FROM DROUGHT AFFECTED YAP, CHUUK, PALAU, KOSRAE AND POHNPEI, March 2016.
Tom Vance, owner of Moana Marine and designer of the solar and wind powered, R.O., water production plant and the plug and play Moana Solar Power Pack that powers the Aquifer 360 emergency relief watermaking unit, addresses the FSM congress on viable options for drought relief. A very successful and informative meeting.
PRESIDENT OF THE MARSHALL ISLANDS, HILDA HEINE, DECLARES A NATIONAL STATE OF EMERGENCY, Feb 2016. 
President Heine declares a national state of emergency in the Marshall Islands due to the severe drought.
DROUGHT BEGINS IN THE MARSHALL ISLANDS AND THROUGHOUT THE FEDERATED STATES OF MICRONESIA (FSM), Nov 2015.
2014 Projects and Timeline
SOLAR INSTALLATION ON UTRIK ATOLL, MARSHALL ISLANDS, Nov 21, 2014:

This United Nations funded project involved installing a state-of-the-art 6250-watt solar array on the new Community Center just in time for the holiday celebrations. The Utrik people can prepare for and celebrate Christmas and New Year's Eve gathered together in their well-lit community center. Congratulations and Happy Holidays Utrik!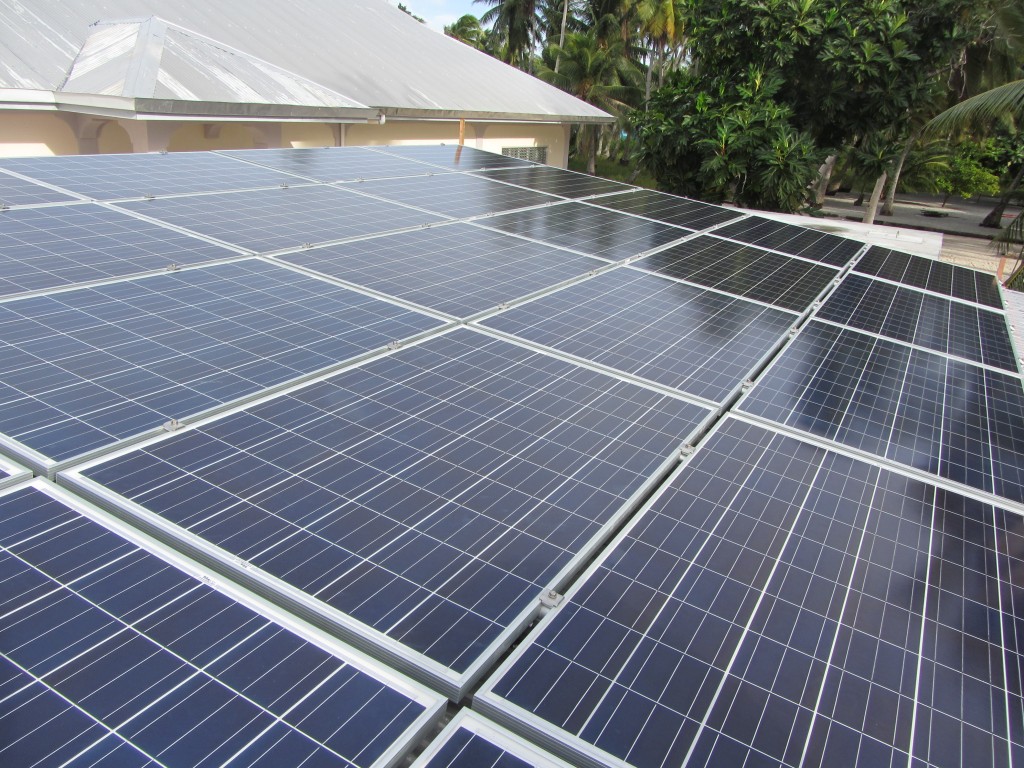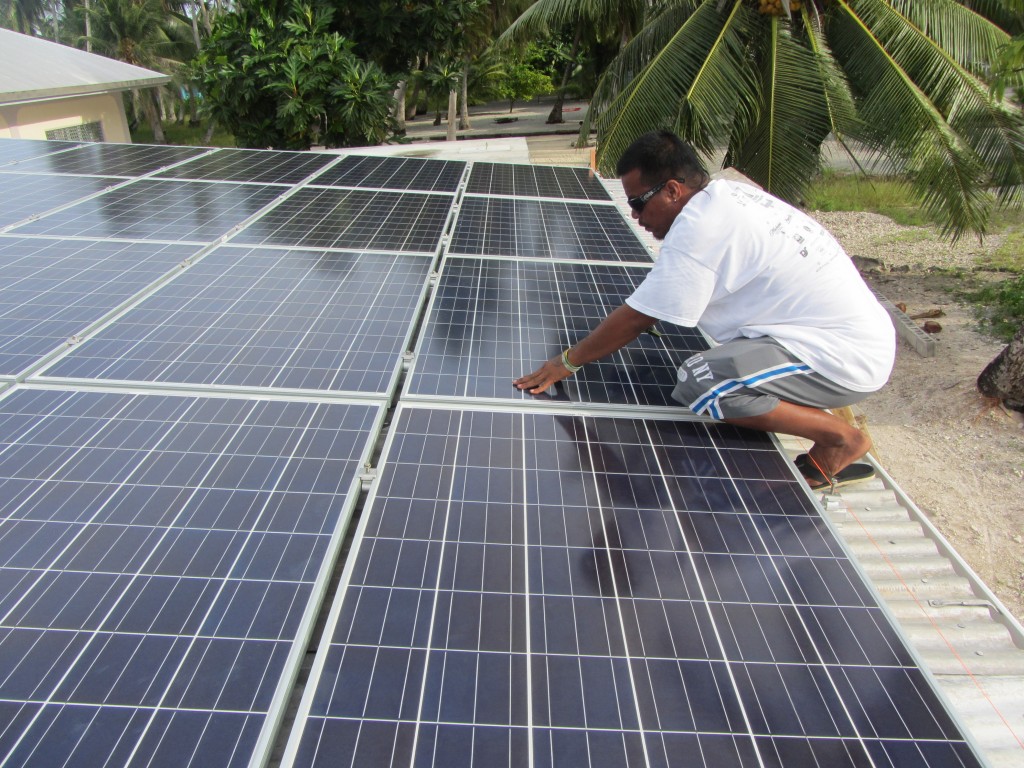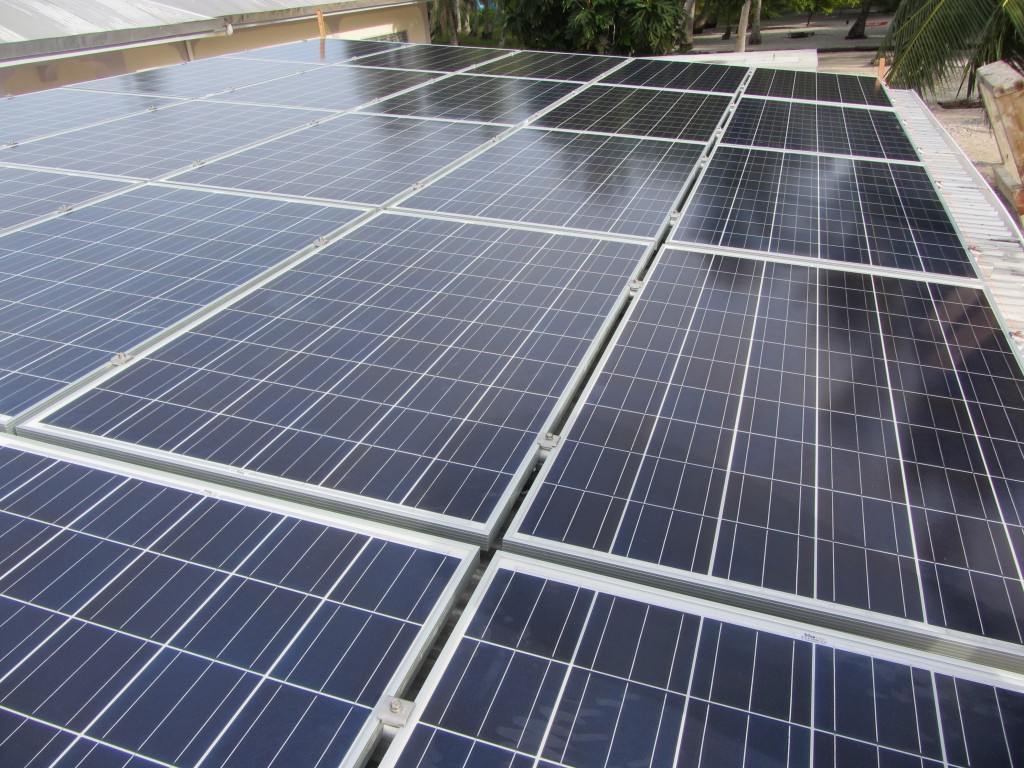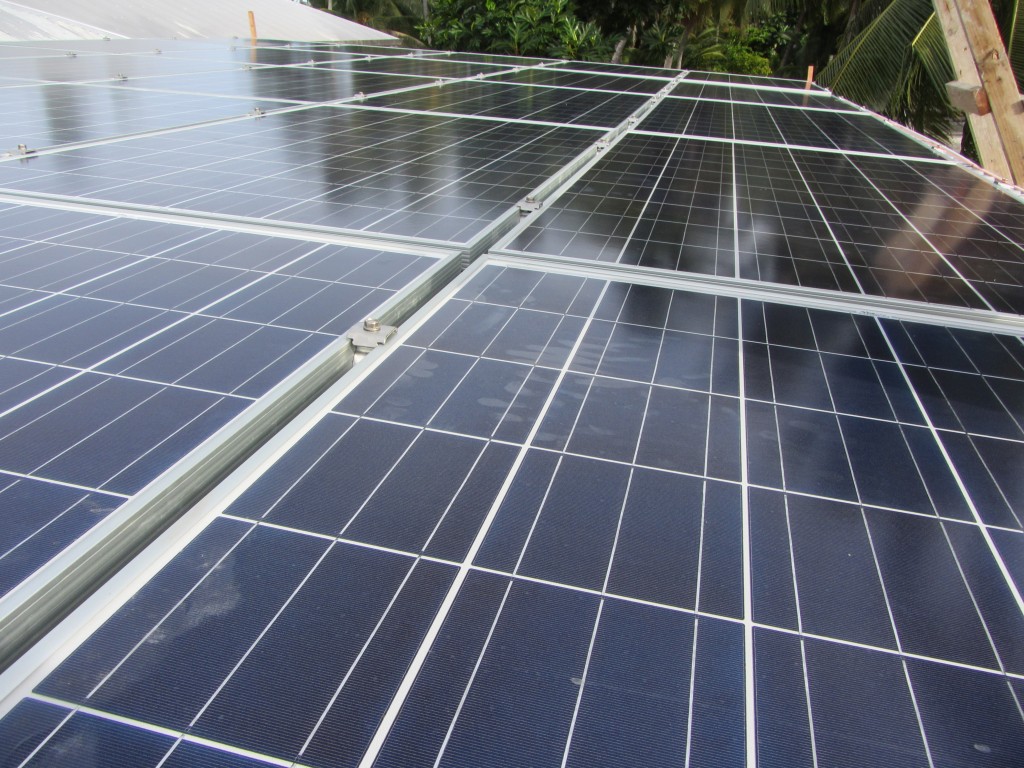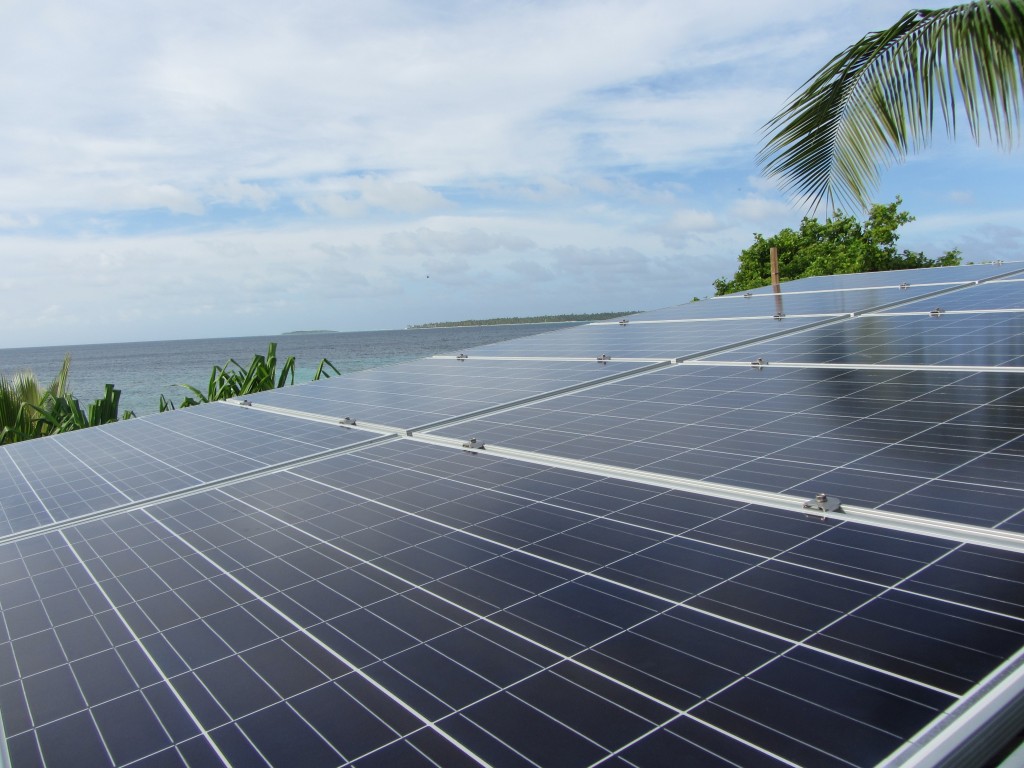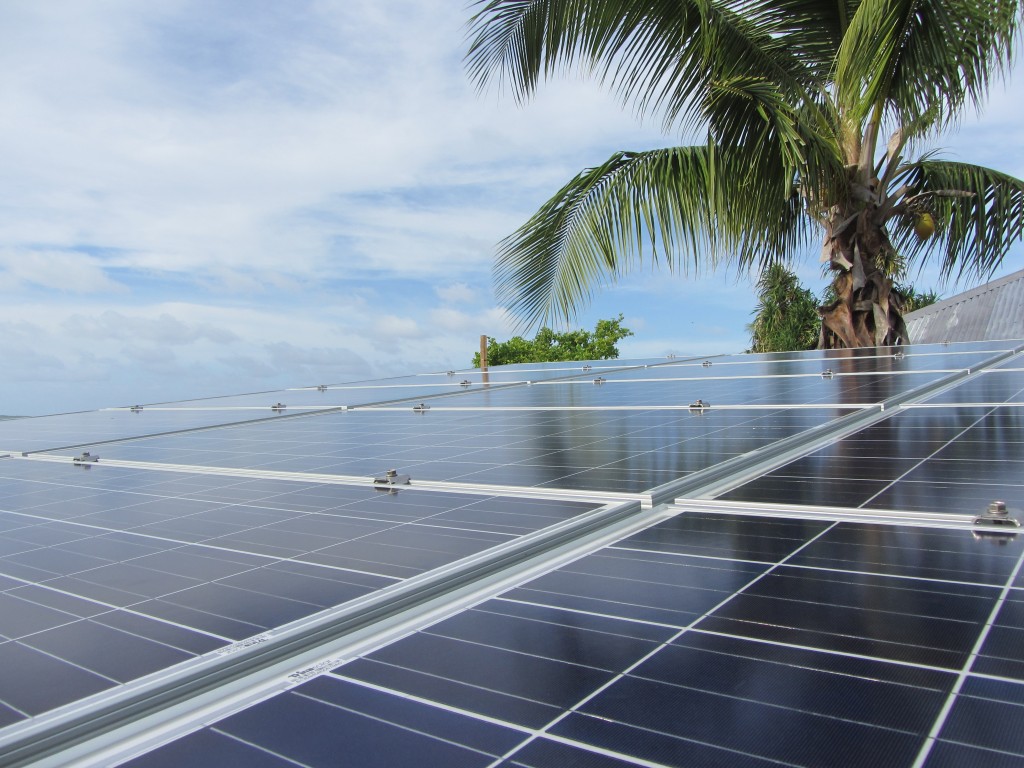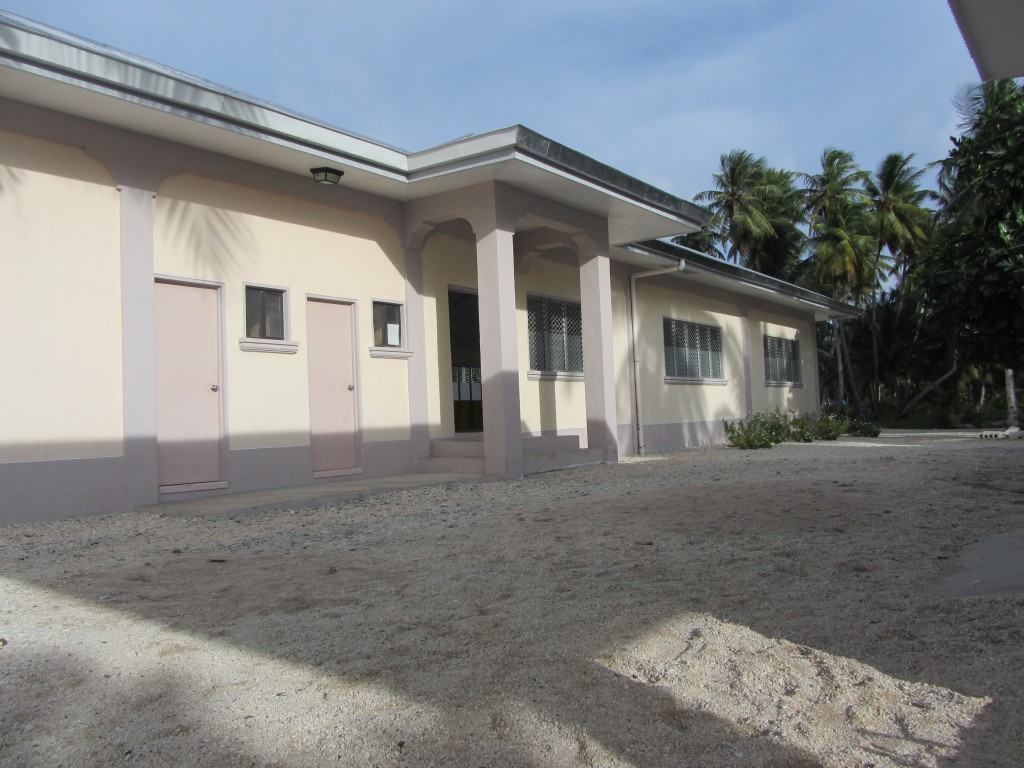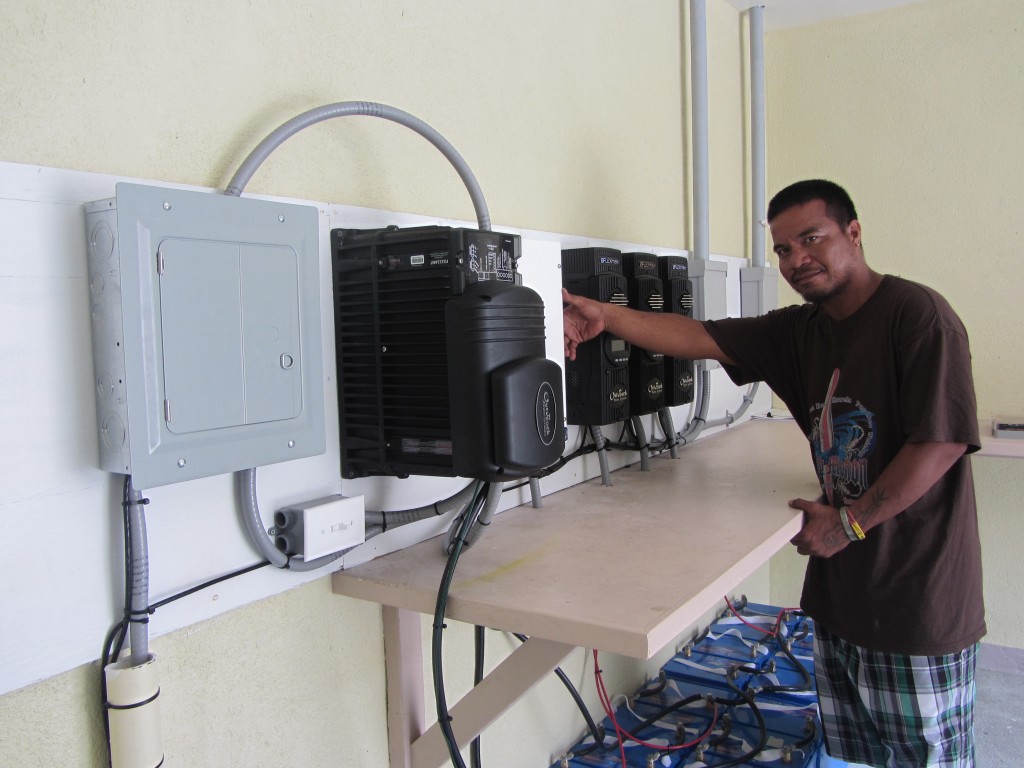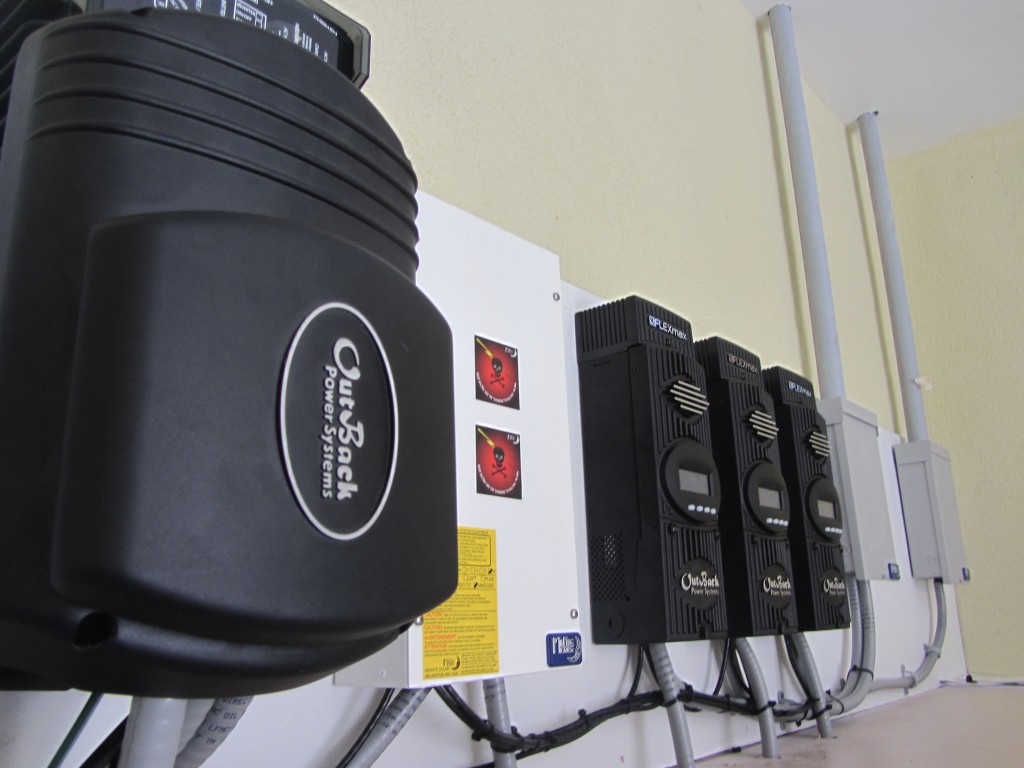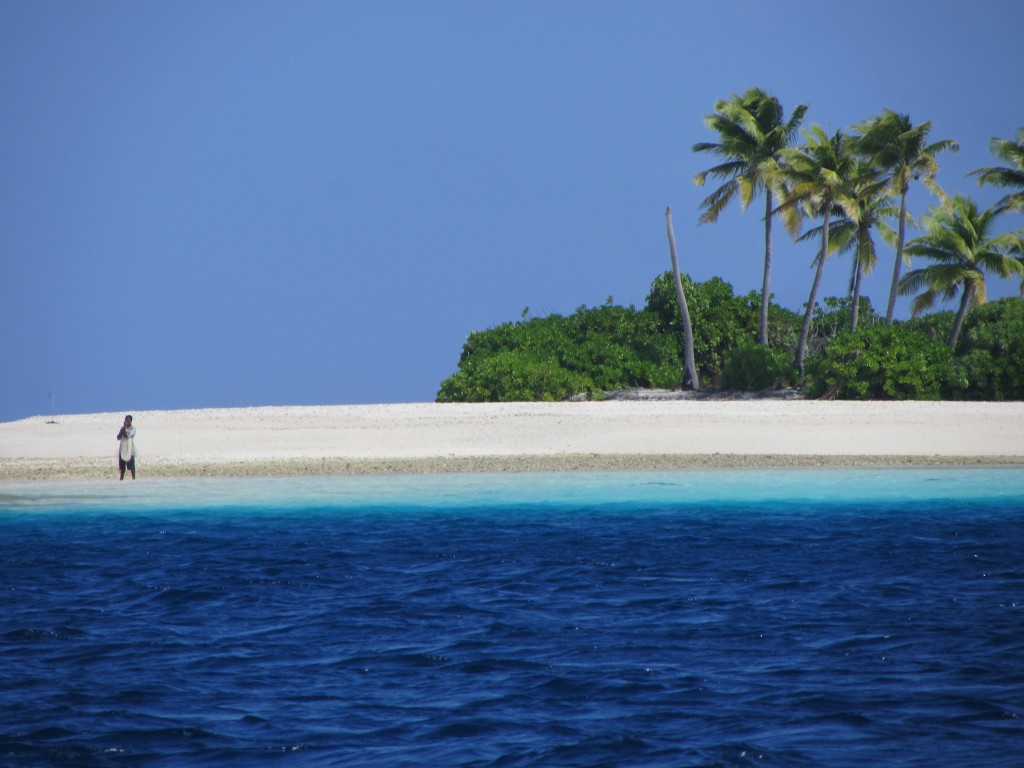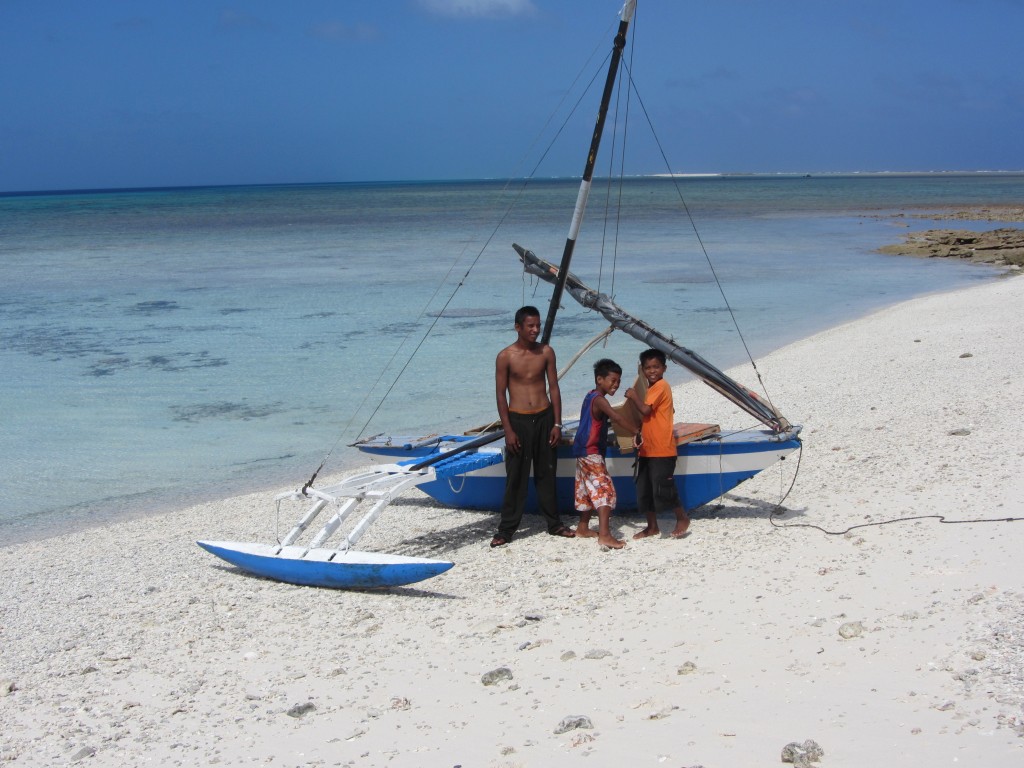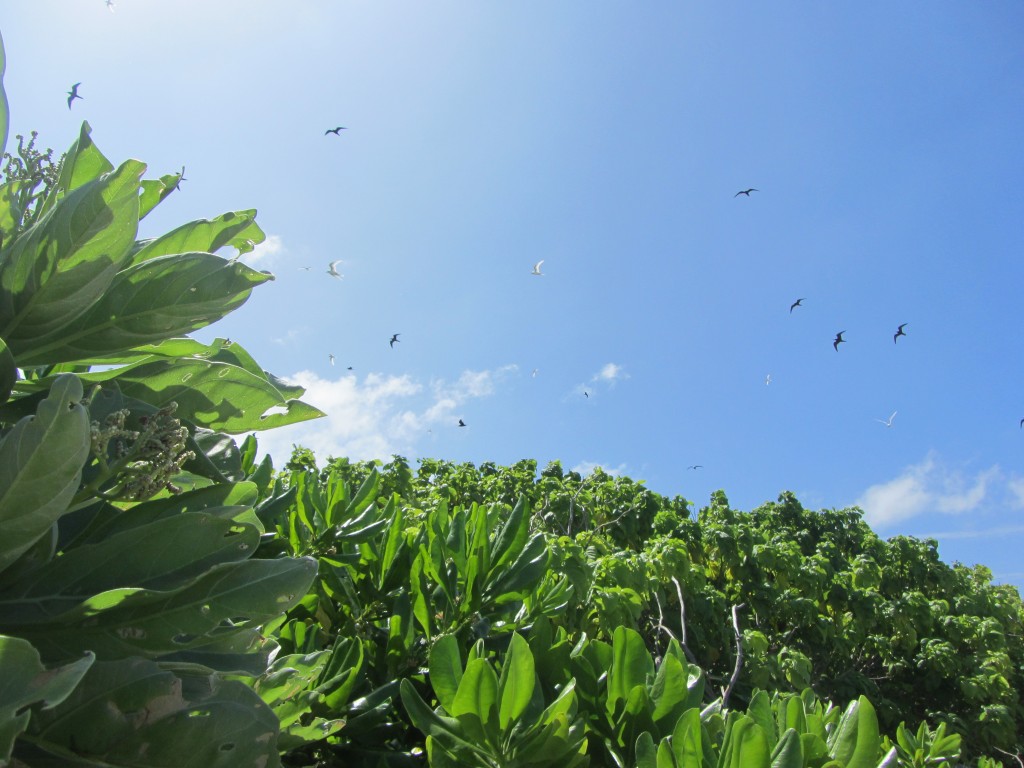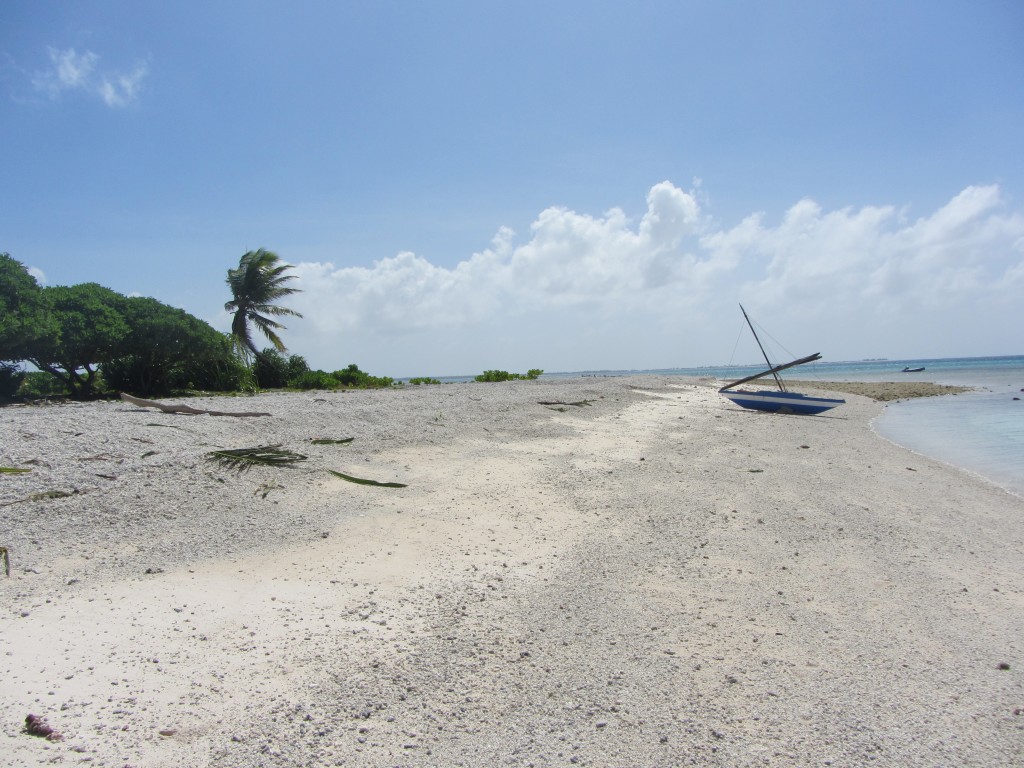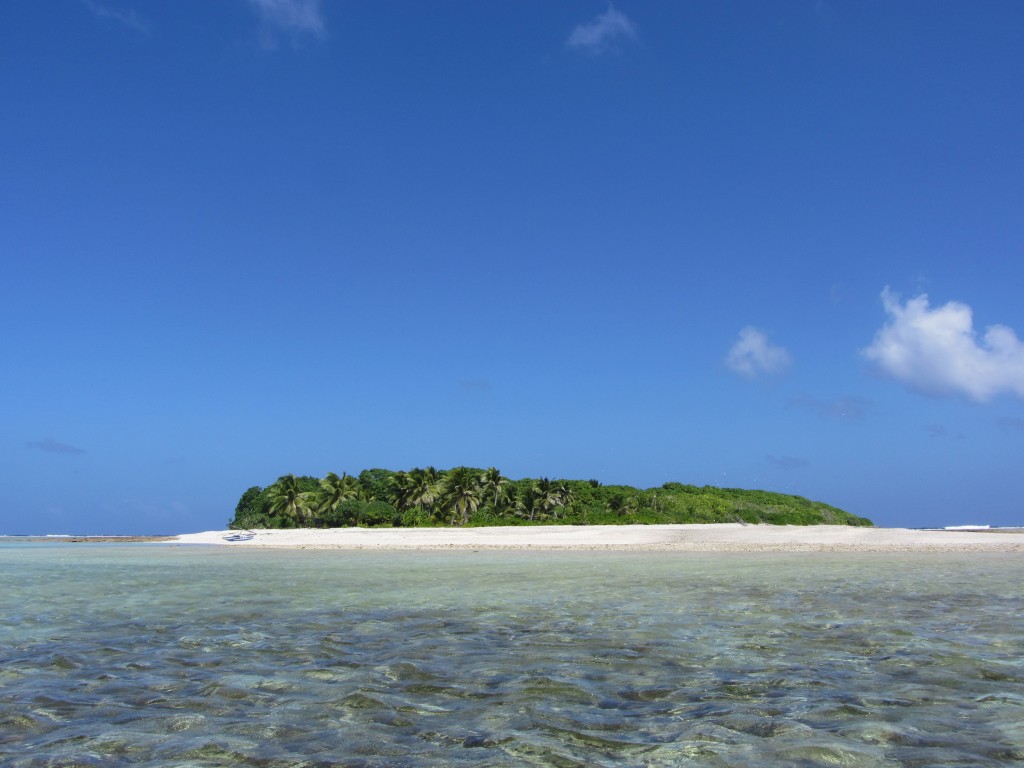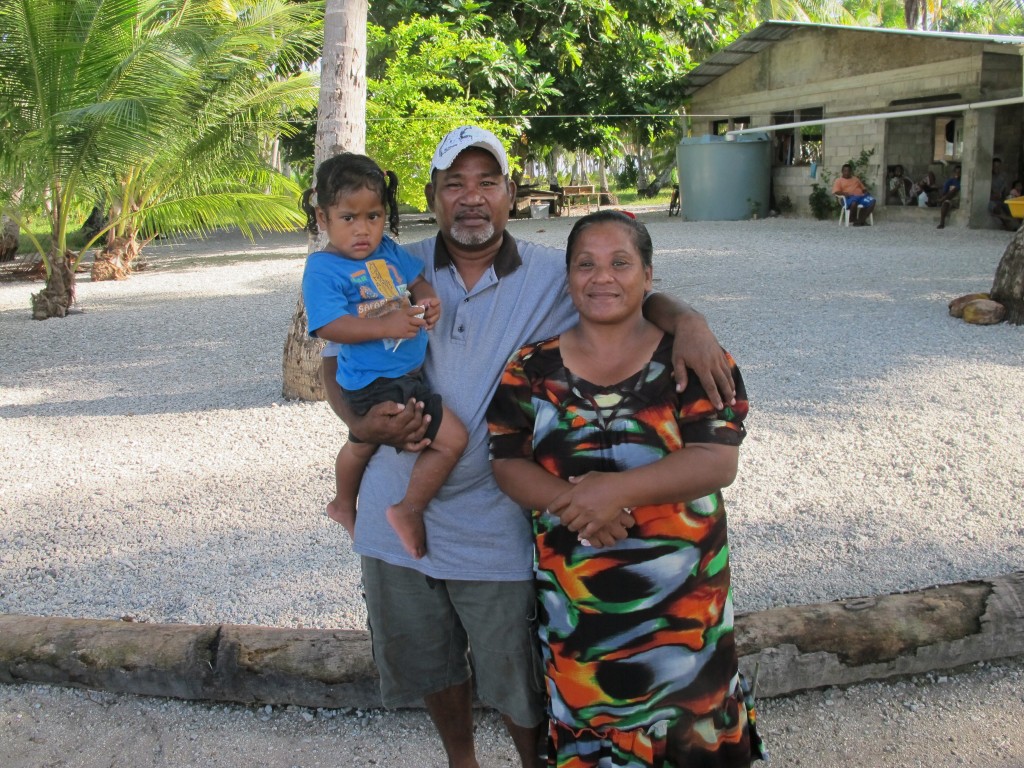 COMPLETION OF REVERSE OSMOSIS WATER TREATMENT PLANT POWERED BY WIND AND SOLAR ENERGY ON KILI ISLAND, MARSHALL ISLANDS, Oct 20, 2014:
In 1946, the US government convinced the residents of Marshall Island's Bikini Atoll to yield their pristine homeland to nuclear bomb testing that would produce "kindness and benefit to all mankind." Believing their sacrifice would help humanity and assured that they would soon return, the Bikinians agreed to leave.
On March 1, 1954, Bikini Atoll was the site of the largest U.S. nuclear bomb test ever conducted, named Castle Bravo, which produced an explosion 1,000 times more powerful than the nuclear weapons used on Hiroshima and Nagasaki at the end of World War II. The nuclear fallout rained down upon Bikini and four surrounding atolls, resulting in the largest ever U.S. nuclear contamination incident.
With their ancestral home rendered uninhabitable, the Bikini islanders were exiled to uninhabited Kili Island, where they live to this day. A lagoon-centered culture, the Bikini islanders faced countless challenges adapting to life on an island surrounded by open ocean, with no harbor or small islets for fishing or food gathering. They were forced to rely upon food rations and aid from the United States to survive on the remote and isolated outpost. To this day, they remain a people in exile.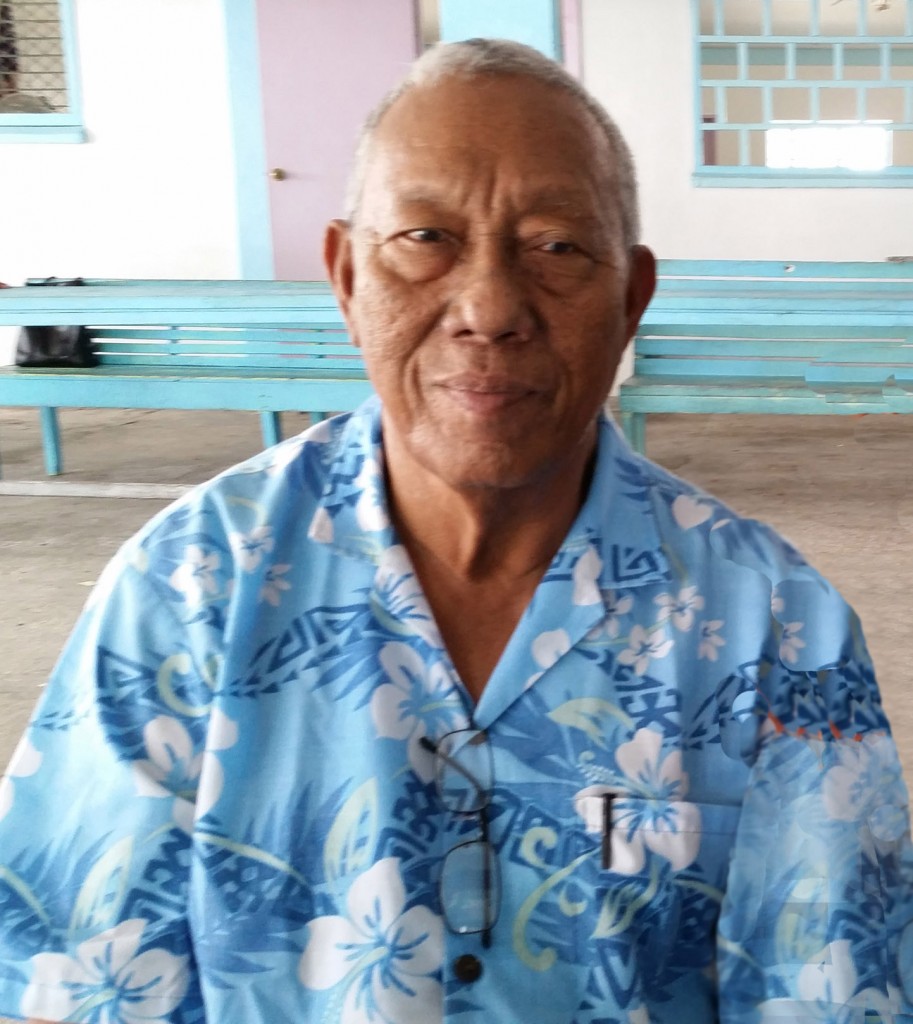 Overtime, water quality has become a serious issue. The Kili people have been plagued with water related health challenges, including chronic skin disease and diarrhea. EPA testing of the drinking water reported that 97 % of the water on Kili was undrinkable and needed to be boiled a minimum of 10-20 minutes prior to consuming, a major drain on their limited energy resources.
When it became evident that something had to be done to remedy the water crisis on Kili, the US Department of Interior (DOI) funded a water treatment plant/alternative energy project to be modeled after the Moana Marine's Utrik installation. Moana Marine was hired to do the job.
Facing the treacherous sea conditions that exist on Kili that has neither harbor nor lagoon, Vance literally surfed the hi-tech machinery and materials from the supply ship to shore on a small skiff. Facing power outages, food shortages, and air and sea transport delays and breakdowns, Vance and his crew from Moana Marine overcame great adversity to install the state-of-the-art reverse osmosis water treatment plant powered entirely by wind and solar energy.
Two Spectra LB-2800 watermaking units now supply the community with 5600 gallons per day of pure, ph- balanced, mineral-enhanced drinking water. The solar array and wind turbine combination provides enough energy to run the RO machines, pumps, and UV sterilization, while feeding excess power back into the grid, creating a sustainable water future for the Bikini Islanders of Kili Island.
The construction of the RO water facility on Kili is complete. The project entailed:
1.  Construction of a concrete building designed to support the solar array on the roof and house the RO units, utilizing a natural ventilation system to cool the electronics and RO units and reduce power consumption.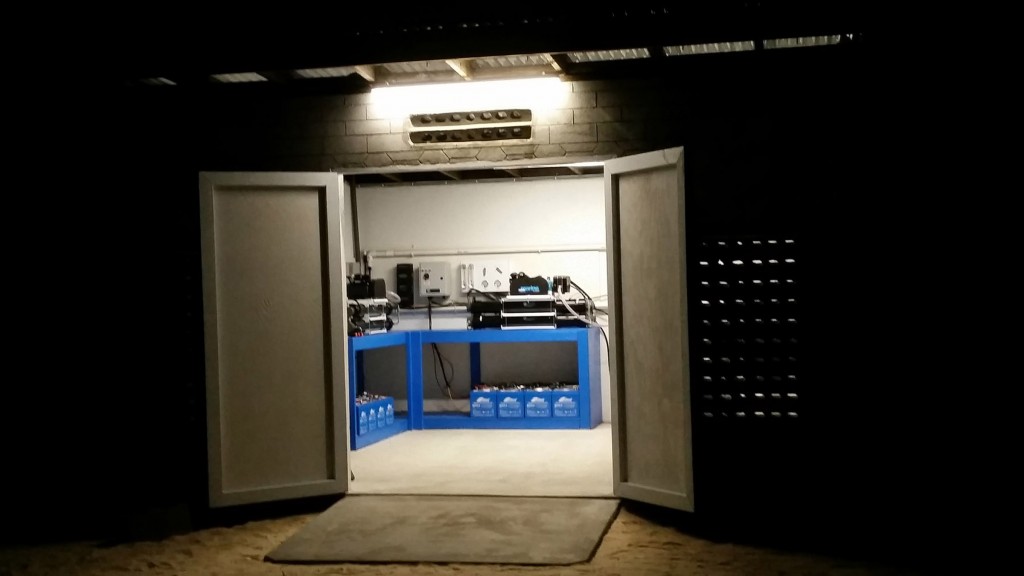 RO Treatment Plant illumined with LED lighting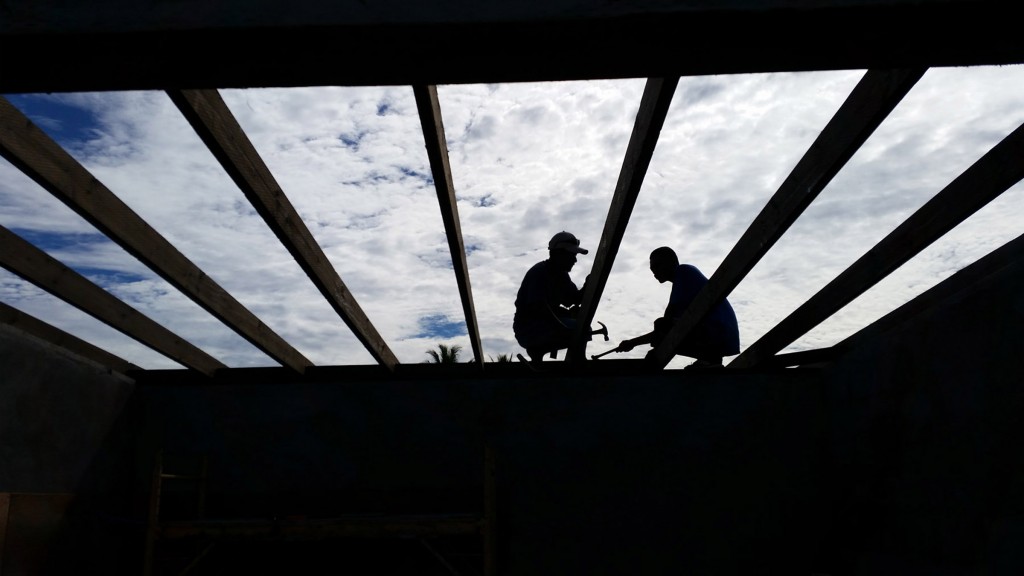 RO Building Construction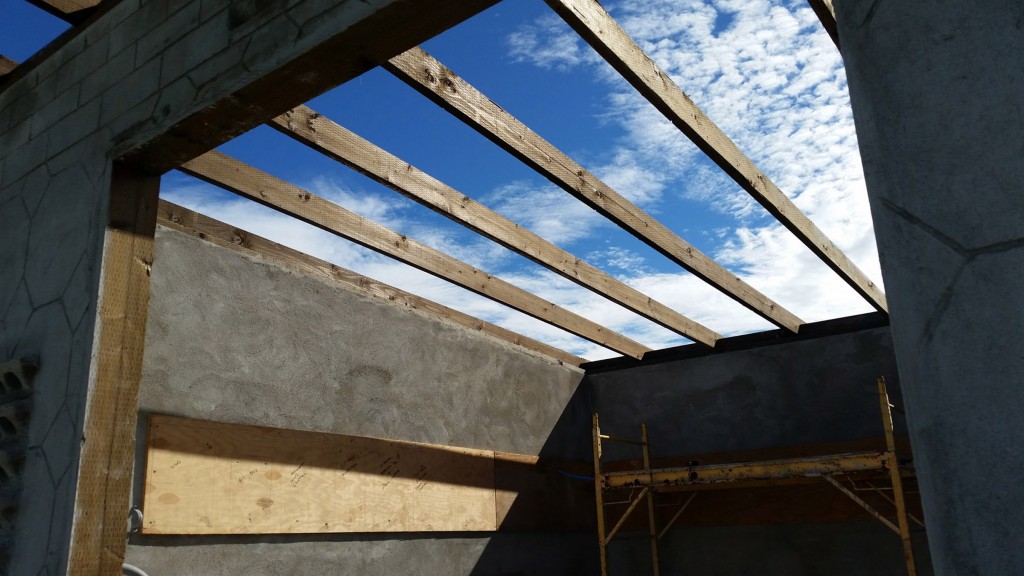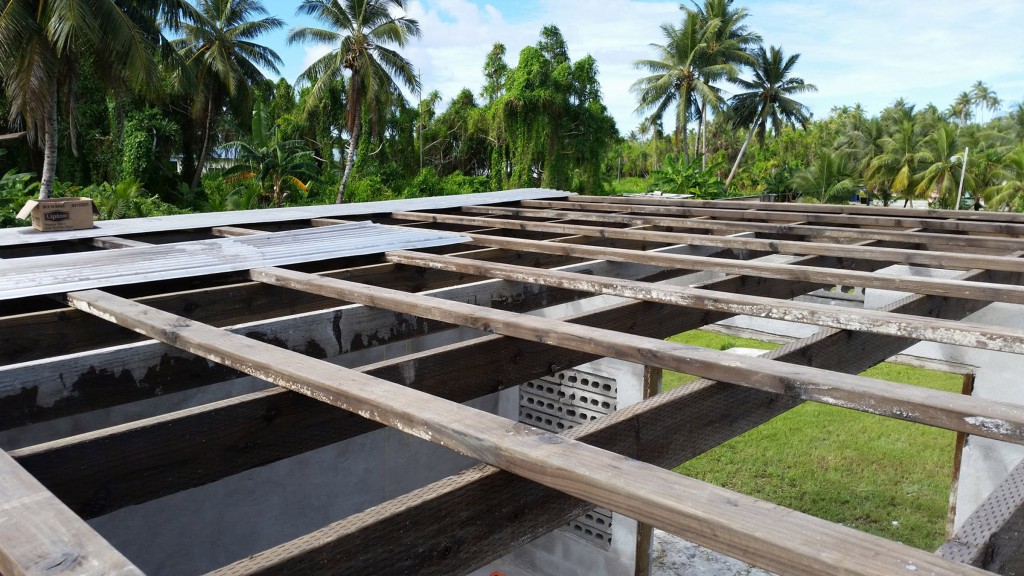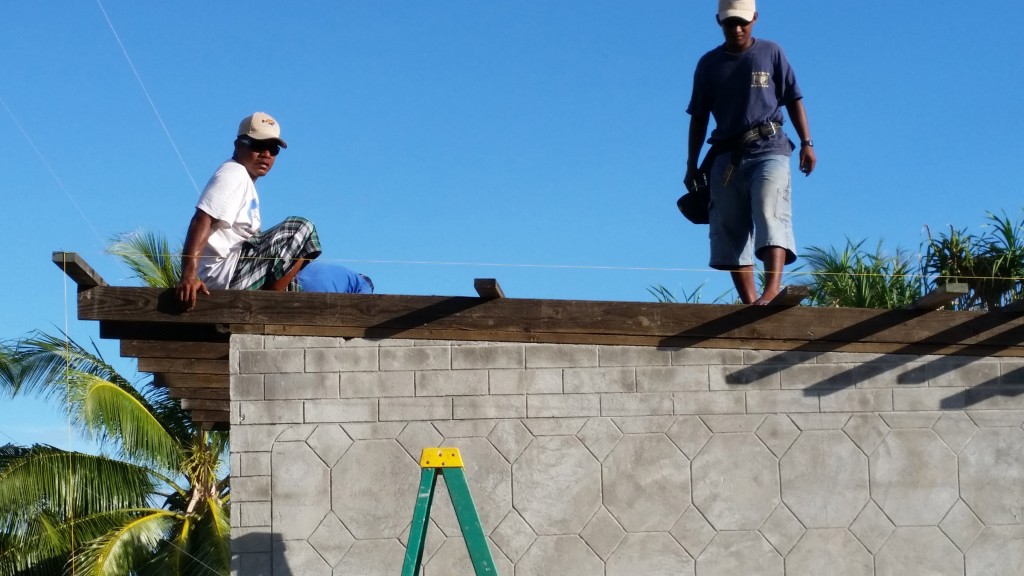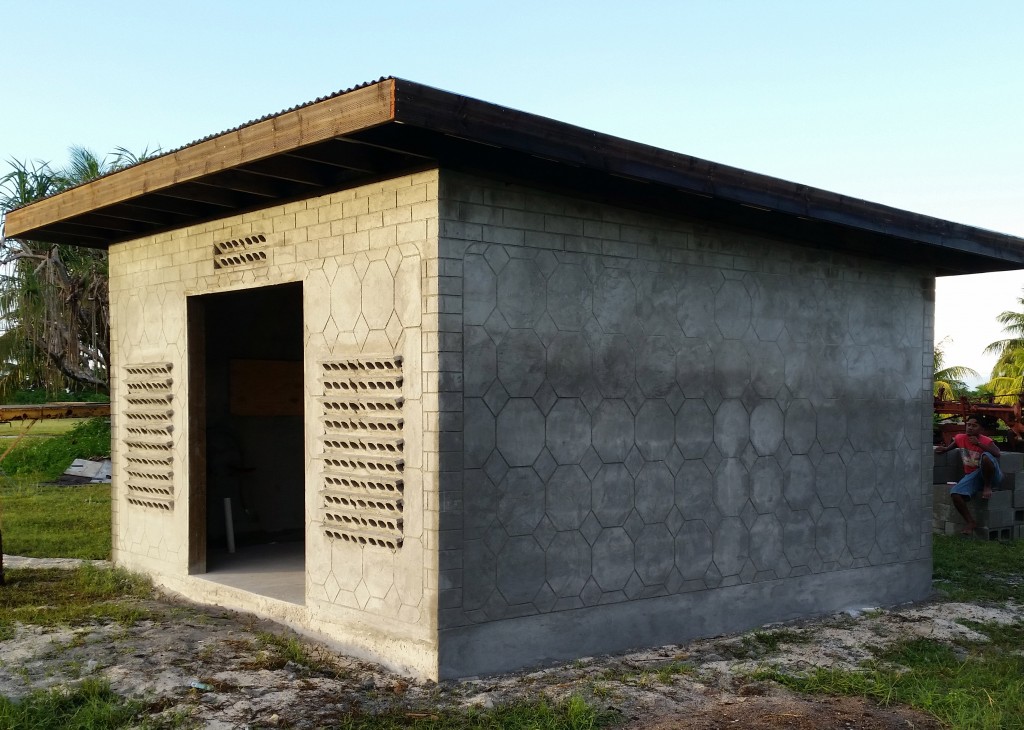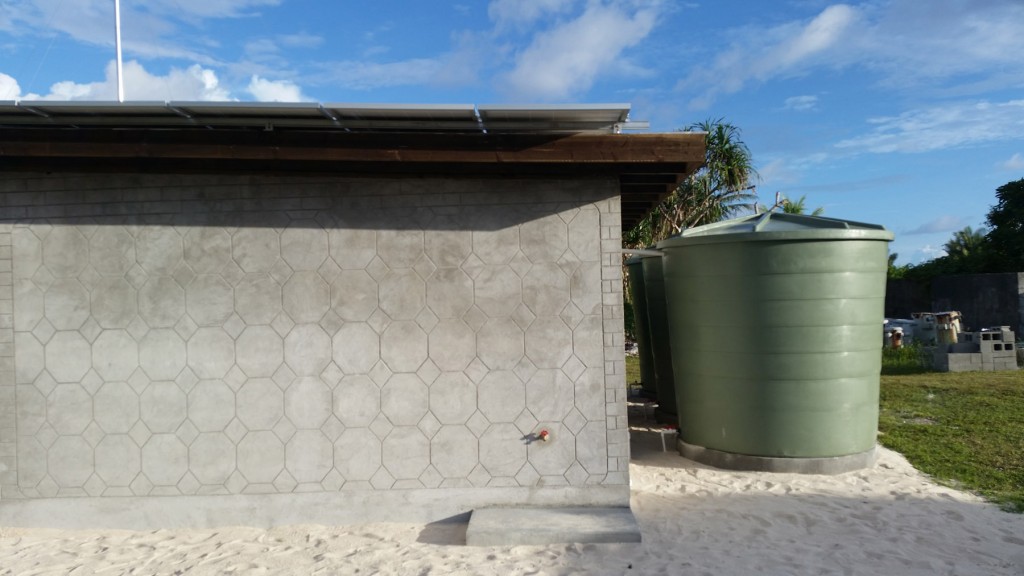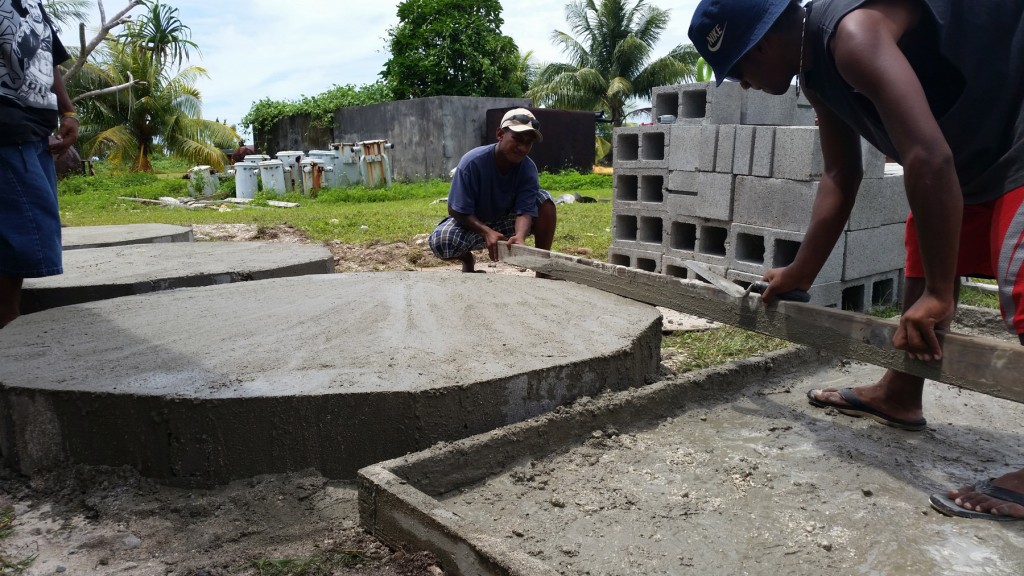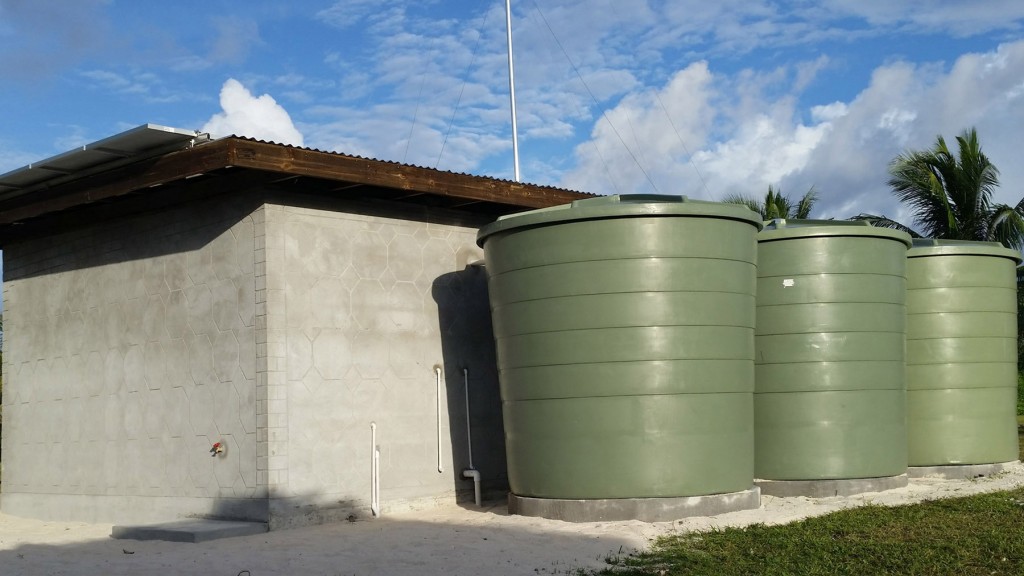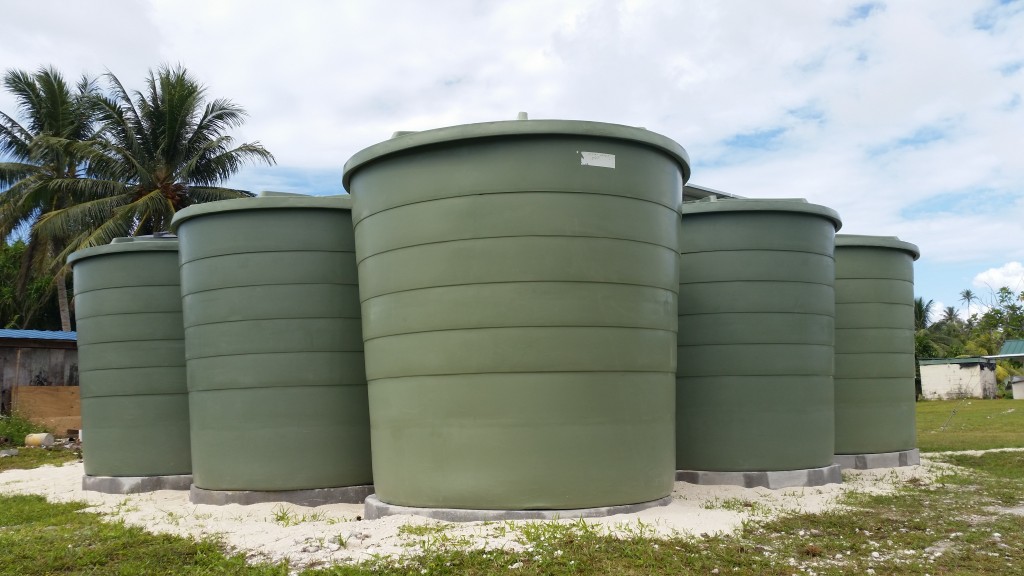 2.  Establishment and construction of a well to source brackish water through the reef, in order to avoid the engine oil and diesel pollution that exists in the fresh water lens and existing RO well, rendering that location and that well problematic.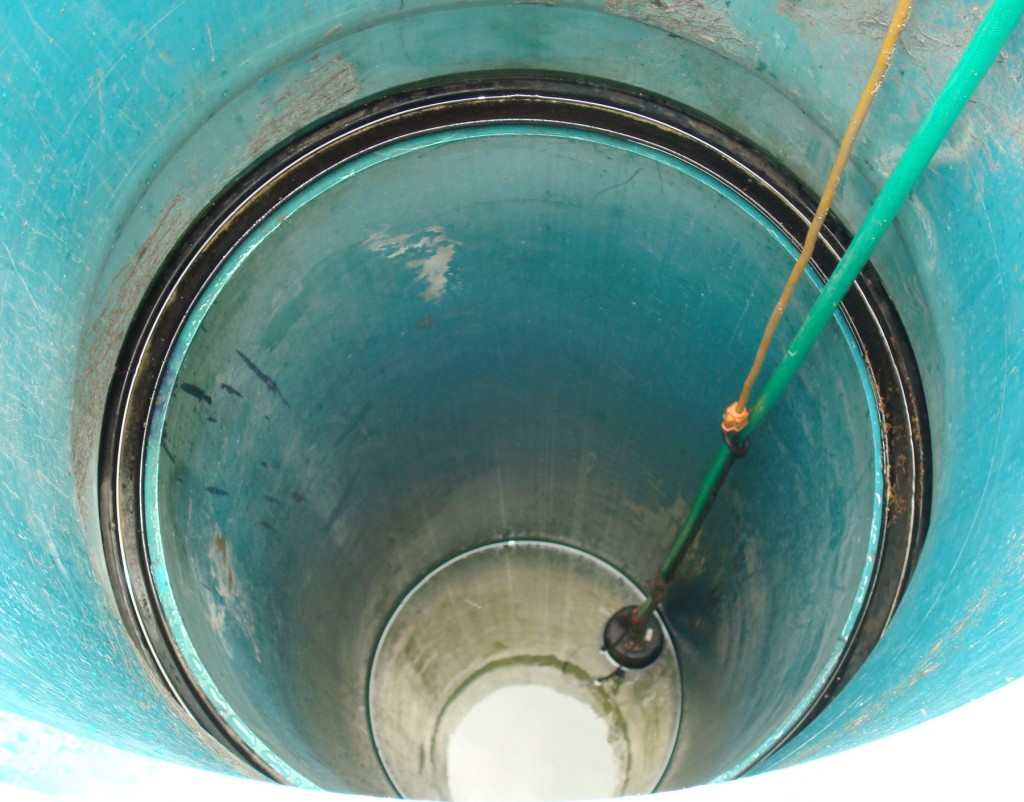 3.  Installation of Moana Hybrid Wind and Solar Power Pack, part 1: Raising of a wind turbine to power the RO facility that outputs 3-phase AC power that converts through a rectifier to 24-volt DC power, charging the substantial battery banks, utilizing 3-step MPPT DC charging.
4.  Installation of Moana Hybrid Wind and Solar Power Pack, part 2: Mounting the solar array, using hi-tech, 3-step MPPT charge controllers, converting unregulated DC voltage from the solar array to regulated 24-volt DC power, to provide power to the battery banks.
5.  Installation of two redundant Spectra LB-2800 Reverse Osmosis Watermaking Systems powered by 24-volt DC motors that purify the brackish water, bringing the parts per million (PPM) below 30. The US EPA standard is 500 PPM or less. Less is better, indicating purer, better-tasting water.
6.  UV sterilization, ph balancing and mineral addition. The RO water is stored in three storage tanks. At point of use, UV sterilization, ph balancing and minerals are added in order to produce the highest quality water, free of contaminants and including vital minerals for optimum health.
MOANA MARINE LAUNCHES KILI ISLAND'S R.O. AND RENEWABLE ENERGY PROJECT, PHASE ONE, MAJURO, MARSHALL ISLANDS, May 10, 2014:
Saturday, May 10th, marked the beginning of a new chapter for the people of Kili Island, in the Marshall Islands, that will help stave off the effects of climate change and instill hope for a healthy and sustainable future. DOI (U.S. Government Department of Interior) has been successful in its efforts to fund the same reverse osmosis water production and water treatment plant powered by wind and solar energy that has been successfully operating on Utrik Atoll since 2010 (see Moana Marine Project's 2010-2011 section). The Bikini Projects staff in Majuro was proud to receive the first delivery of cargo on Saturday. The RO/alternative energy plant, designed and installed by Moana Marine, will provide the community between 2800 and 5600 gallons per day of fresh, purified, EPA-approved drinking water. Local crews will be trained by Moana Marine on the everyday operation and maintenance of the system on-site while the system is being built. Work on Kili is projected to begin in July.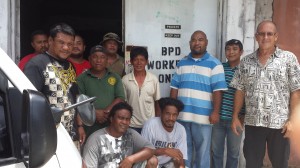 2013 Projects and Timeline
REFITTING TAOTIN TRADING'S LANDING CRAFT 'SUPER CARRIER' WITH TWO NEW ENGINES AND TWO NEW GENERATORS. LOCATION: TARAWA, KIRIBATI. PURCHASING AND SHIPPING ALL PARTS AND TOOLS FOR REFIT AND FOR SEVERAL WATER, WIND AND SOLAR PROJECTS  IN THE KIRIBATI ISLANDS SCHEDULED FOR THE END OF 2013 INTO 2014, August, 2013:
Our USA warehouse located in Port Townsend, Washington: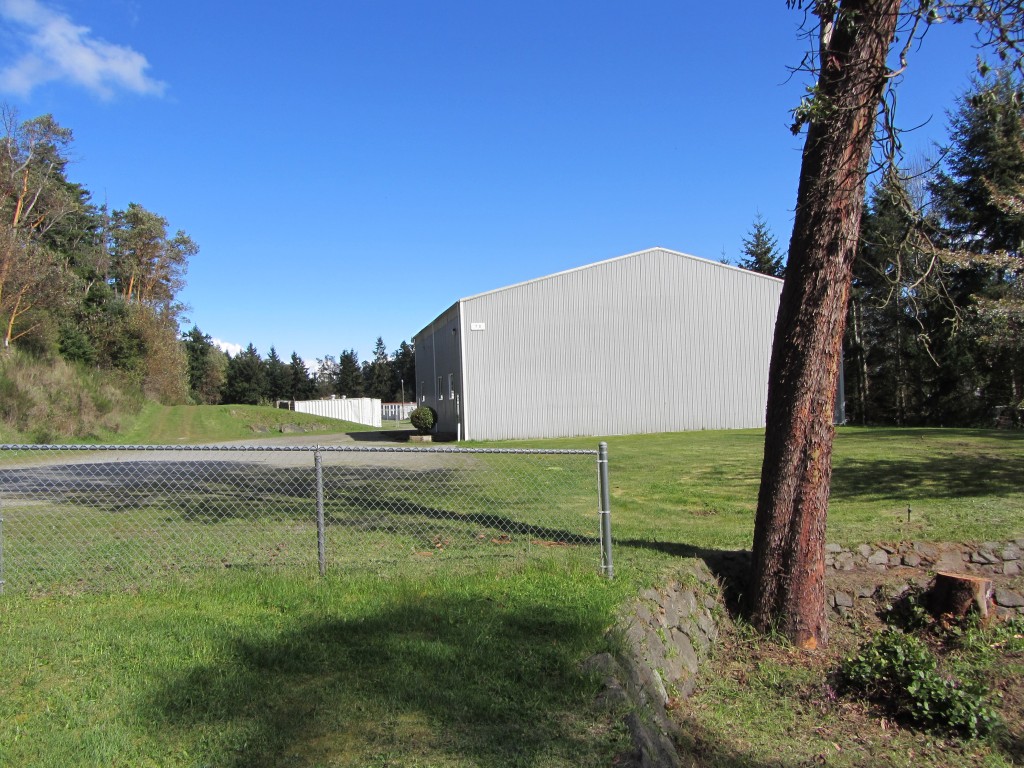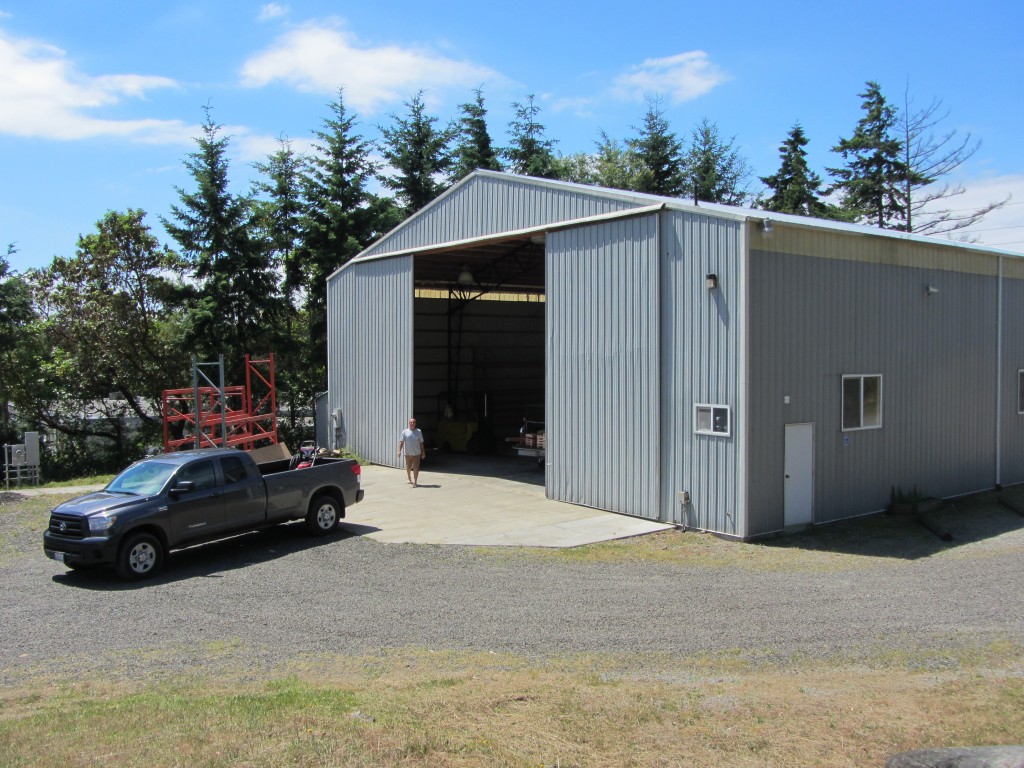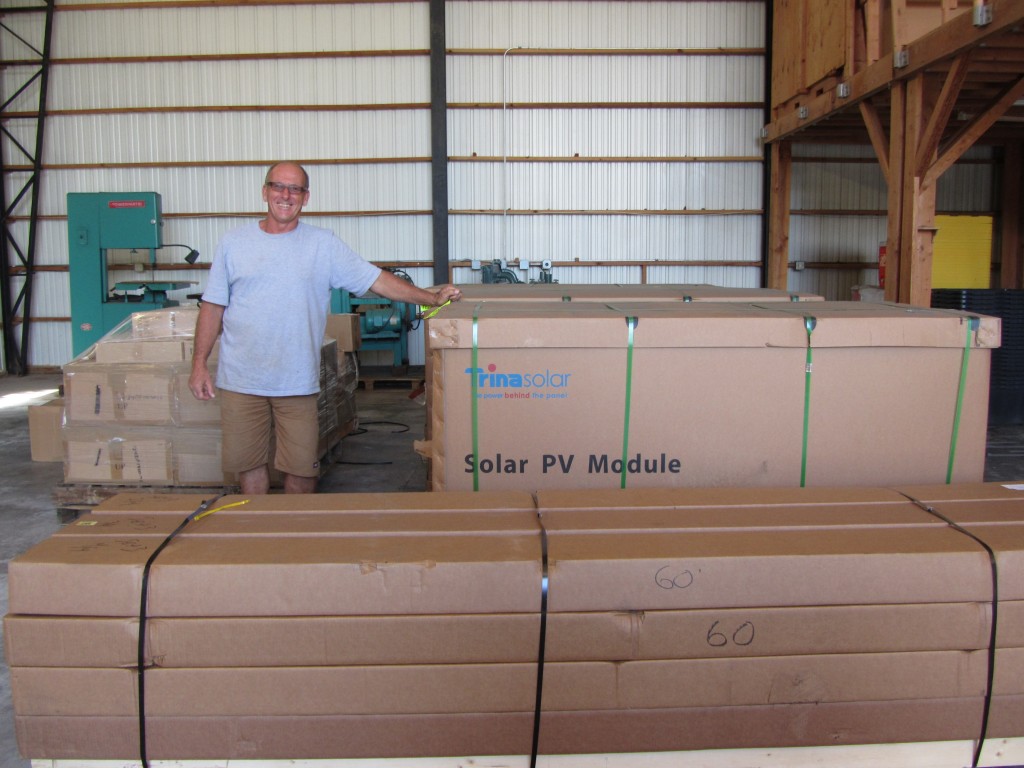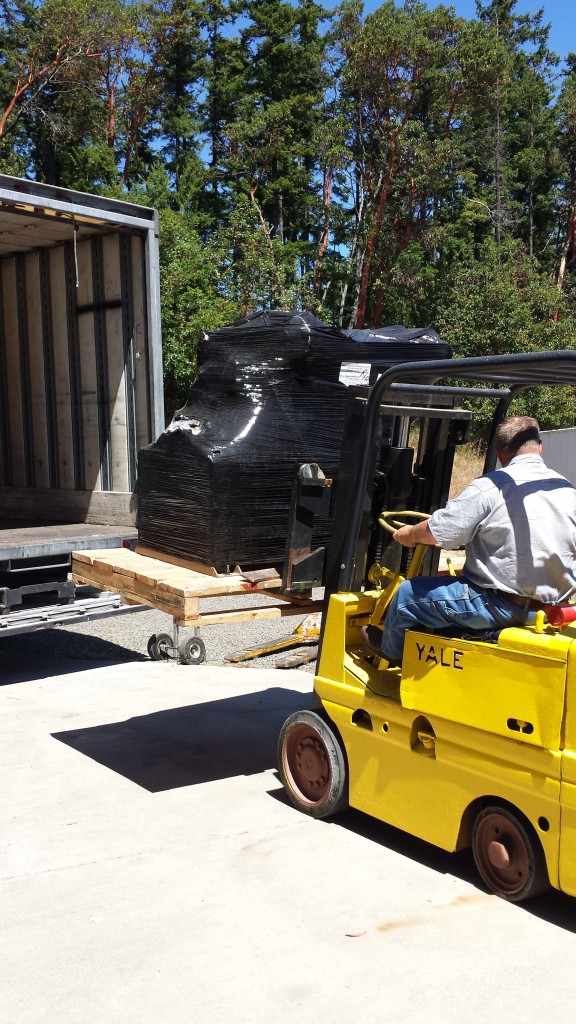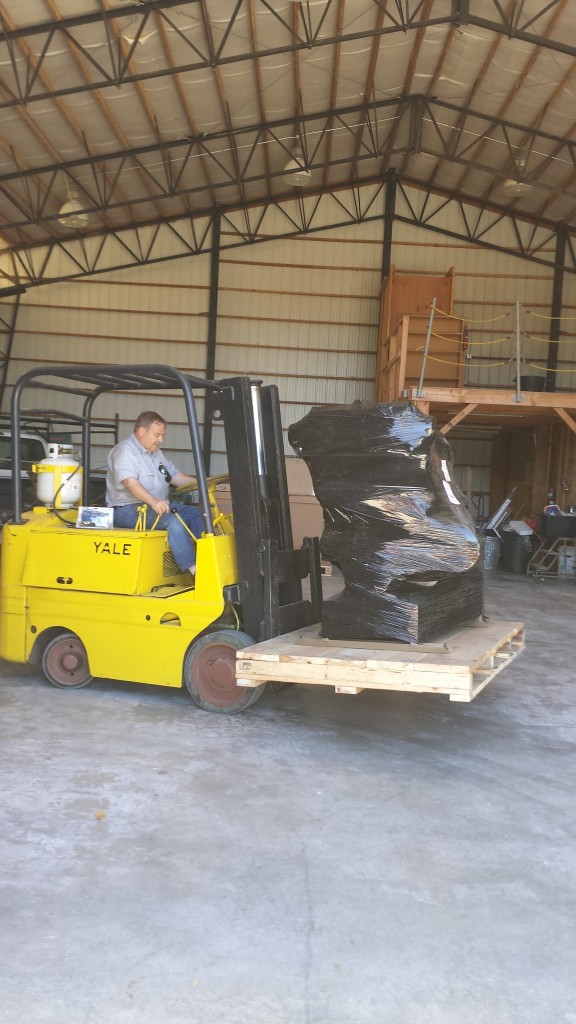 MOANA MARINE PREPARES AND DELIVERS TWELVE SPECTRA AQUIFER 360'S AND MOANA SOLAR POWER PACKS TO IOM AS PART OF IOM/USAID DROUGHT  EMERGENCY PREPAREDNESS, MAJURO, MARSHALL ISLANDS.  August  2013:
We praise IOM and USAID for preparing now for future droughts in the Pacific Island region by maintaining a supply of Spectra Aquifer 360's, Moana Solar Power Packs, and associated replacement parts in order to be poised and ready for future emergency deployment.
UNITED STATES PRESIDENT BARACK OBAMA DECLARES A DISASTER FOR REPUBLIC OF MARSHALL ISLANDS, AUTHORIZING FUNDING FOR RELIEF EFFORTS AND RECONSTRUCTION ACTIVITIES, June 14, 2013:
President Obama encourages the use of alternative energy in the emergency aid relief efforts. Moana Marine's Solar and Wind Power Packs combined with Spectra Watermaker's energy efficient watermaking machines have proven to be a great success in remote locations where gasoline and diesel fuel supplies are extremely costly, unreliable and unsustainable. For the reconstruction efforts, Moana Marine recommends permanent R.O. installations powered by wind and solar on every atoll in the Marshall Islands, using the installation on Utrik Atoll as a model. For more information on the Utrik project, please see 'Utrik Atoll Solar, Wind and Water Project' listed below under the 2011 projects.
TOM VANCE ACCOMPANIES RMI CHIEF SECRETARY, CASTEN NEMRA, AND RMI SPEAKER OF THE PARLIAMENT, DONALD CAPELLE, TO LIKIEP ATOLL TO DELIVER AND INSTALL TWO SPECTRA AQUIFER 360'S AND ASSOCIATED MOANA SOLAR POWER PACKS, May 2013:
Marshall Island's Chief Secretary and the Speaker of the Parliament are very surprised and impressed to observe firsthand how quickly the portable Spectra Aquifer 360's, powered by the Moana Power Pack, can be flown to a remote island environment and be set up and producing a continuous flow of fresh drinking water. We have one of the units working within an hour. Their only question is: "Given this remarkable technology, why would anyone choose to send out boxes of bottled water to these remote islets, a temporary remedy at best, costing so much more in time and money to deliver, that ultimately ends up littering the beaches?"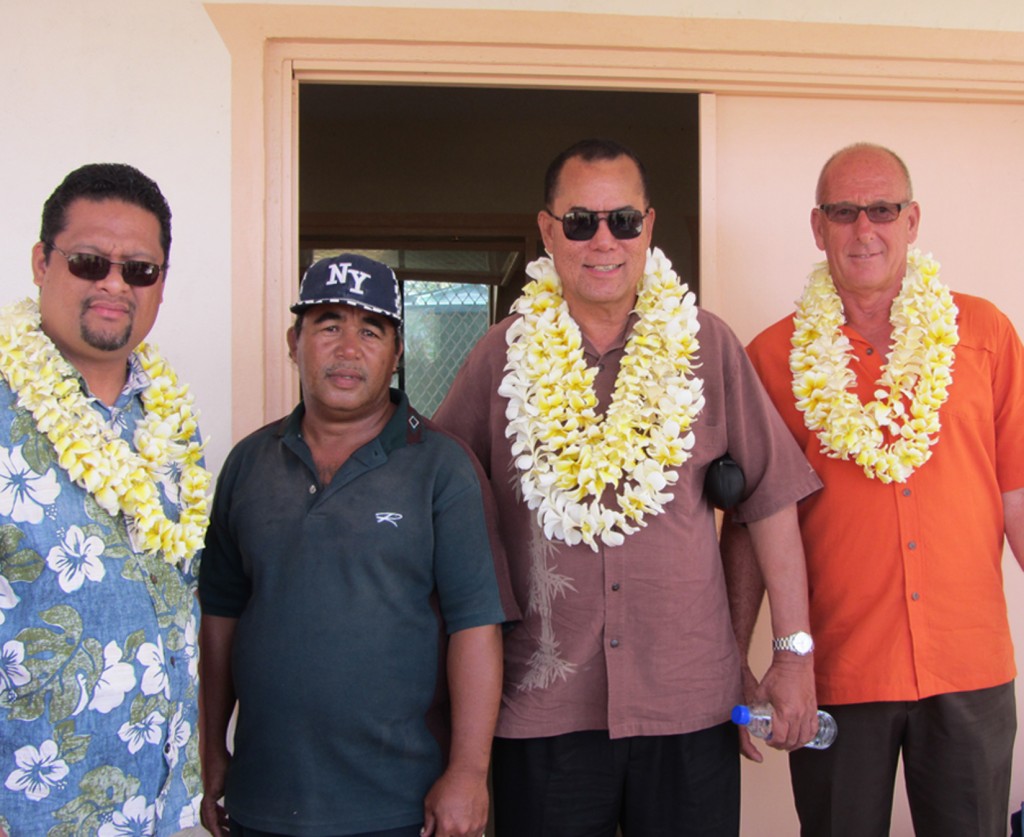 AS THE NATIONAL WATER ADVISER, TOM VANCE IS INTERVIEWED BY RADIO NEW ZEALAND. HIS INTERVIEW IS PICKED UP IN PUBLICATIONS ALL AROUND THE PACIFIC, May, 2013:

Radio NZ: The drought in the Marshall Islands is being described as dire, as thousands of people are still affected. Major rain water supplies have been exhausted, and ground-water is unsafe to drink, crops are dying or dead and health and social issues are also getting worse.  Leilani Momoisea reports:
Government officials have again been assessing the worst hit atolls. Its National Water Adviser, Tom Vance, says 17 water purifying units are helping hydrate the population in need, but most of the local food supply is gone.
TOM VANCE: The biggest fatality in the plants are the breadfruit trees, and the breadfruit are a real staple in the outer islands. There's a huge die-off of the breadfruit. Also one of our islands – it's called Enewetak – that's the driest island, they've had such a problem with the drought that all of their local food crops have collapsed, and they've had an extreme problem trying to get any food into the island.
He says the extent of the drought and the deterioration of the freshwater lenses is something the Marshall Islands has never seen before. Mr Vance says even when it does start to rain, it may take all year for the freshwater lenses to be replenished and for the plants to start growing again. He says the drought has been especially difficult on the health of the children and elderly.
TOM VANCE: There are many people in the hospital, especially the elderly. They have been drinking water out of the same well their whole lives. With the deterioration of the lens, the salinity levels have gone up so high in the wells that the people are starting to have kidney problems, diarrhea, fevers and a worsening of diabetes. People traveling to other villages for safe drinking water has also been causing social tension, as the additional population stresses the resources of the community.
SITE ASSESSMENT FOR R.O. AND ALTERNATIVE ENERGY PROJECT ON KILI ISLAND, May 8, 2013:
Moana Marine inspects the power grid and the existing, non-functioning R.O. units on Kili, and determines how to establish alternative energy on the island in order to reduce the current, very costly, dependence upon diesel-fueled generators.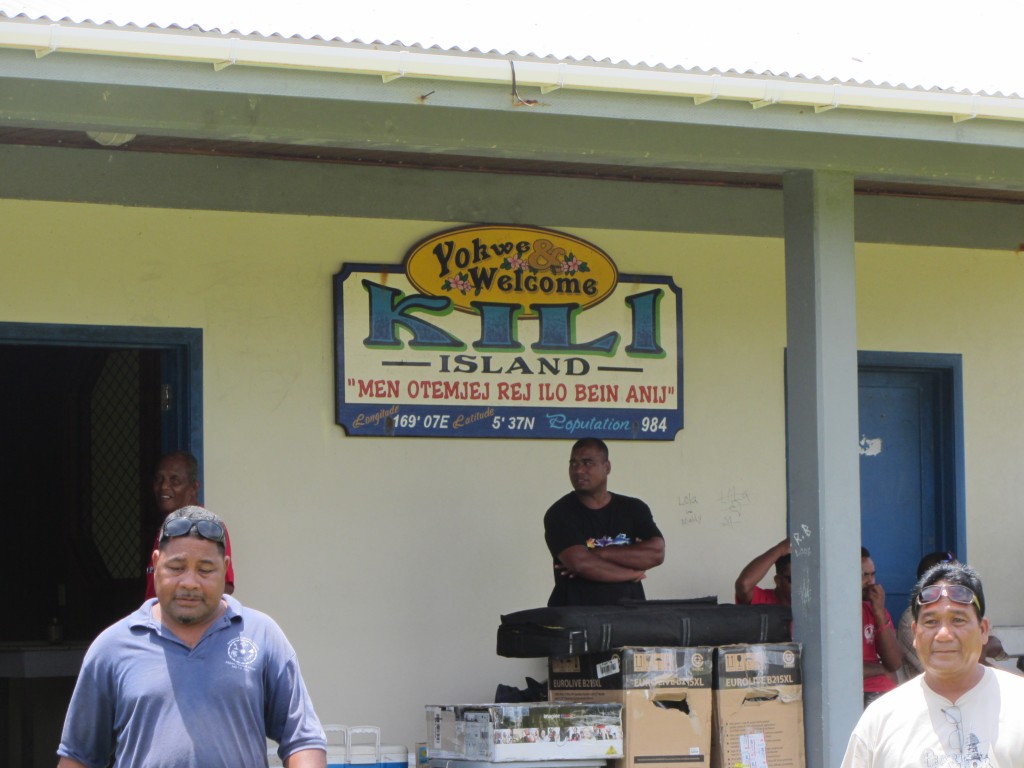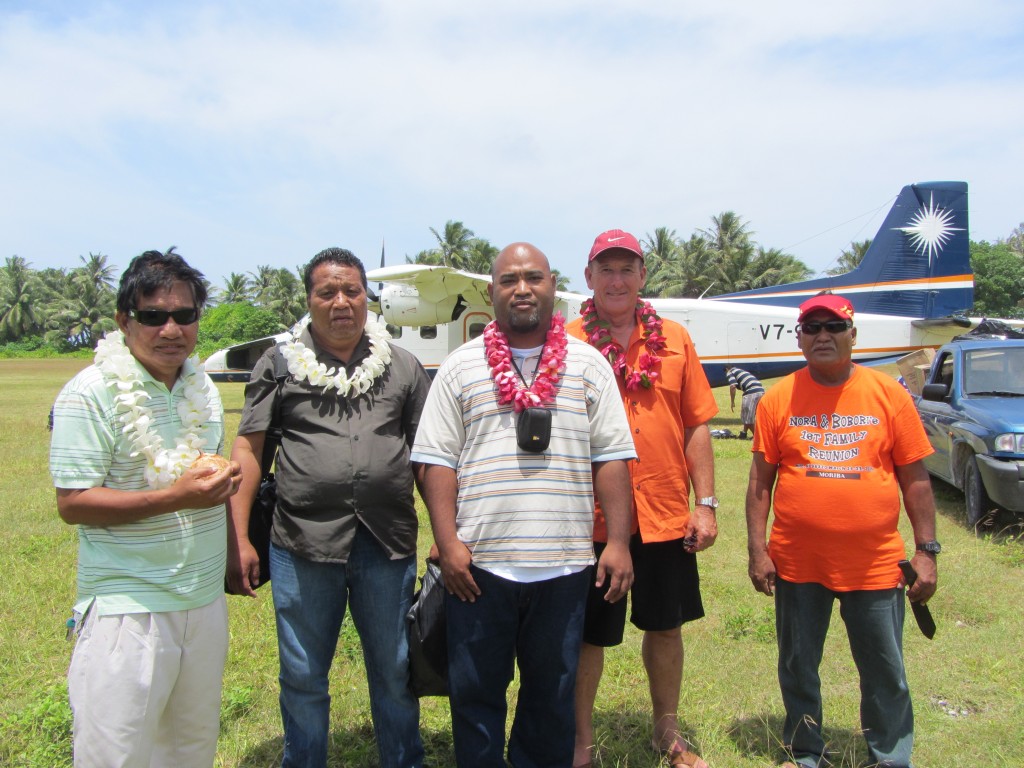 MOANA MARINE PREPARES AND DELIVERS FIVE PORTABLE SPECTRA AQUIFER 360'S POWERED BY 590 WATT MOANA SOLAR POWER PACKS TO AUSAID FOR RAPID DEPLOYMENT TO DROUGHT AFFECTED ATOLLS IN THE MARSHALL ISLANDS, May 2013:
The success of the Spectra Aquifer 360's powered by alternative energy inspires AUSAID to partner with Moana Marine in their emergency drought relief efforts in the Marshall Islands. Moana Marine trains five local technicians and the five machines are quickly deployed to the outer atolls, providing the people in need with a continuous source of pure drinking water.
MOANA MARINE PREPARES AND DELIVERS THIRTEEN PORTABLE, SPECTRA AQUIFER 360'S POWERED BY 590 WATT MOANA SOLAR POWER PACKS TO IOM FOR RAPID DEPLOYMENT TO DROUGHT AFFECTED ATOLLS IN THE MARSHALL ISLANDS, May 2013:
USAID, IOM and Moana Marine once again partner together in the successful deployment of 13 portable, Spectra Aquifer 360 watermaking units powered by Moana Solar Power Packs to drought affected atolls in the Marshall Islands. Moana Marine trains local technicians to set up and operate the units after which they are flown out to the drought affected atolls and deployed in as little as one hour, providing a continuous source of pure drinking water with zero carbon footprint. No need to ship in expensive gasoline or diesel fuel to power generators. No need for chartering expensive ships. No plastic containers to litter the beach. 6400 people are kept alive with Spectra R.O. watermaking units powered by Moana Solar Power Packs. A great success at a fraction of the cost of conventional interventions!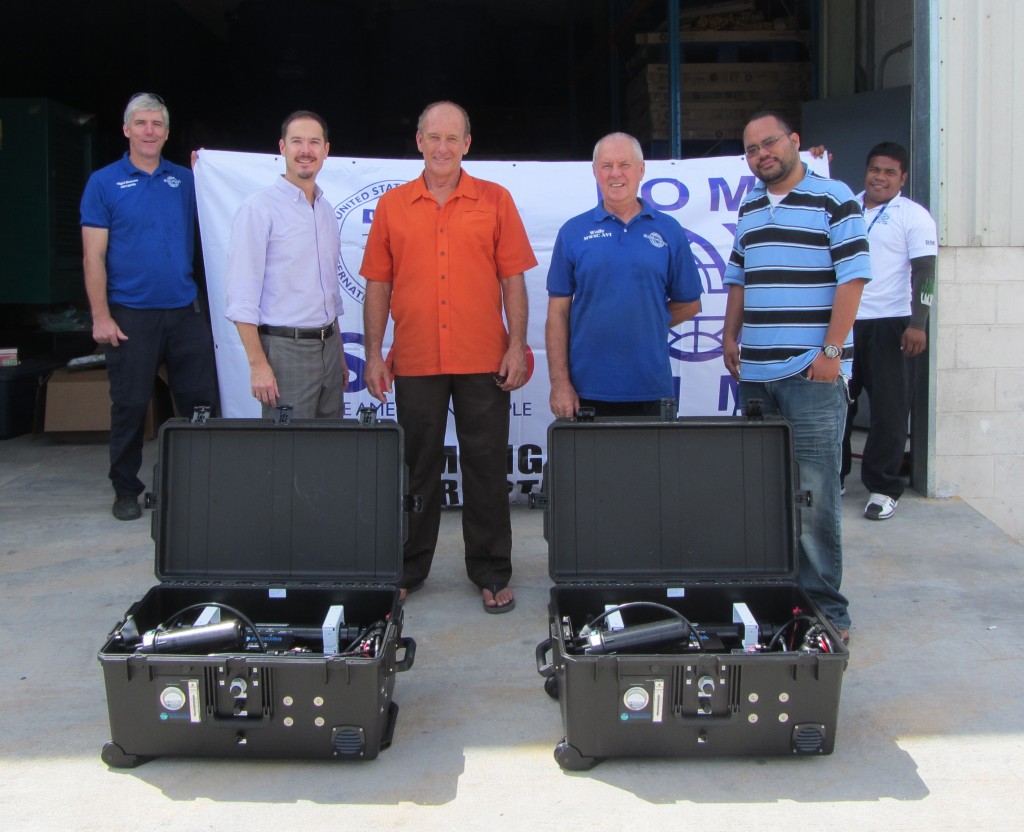 THE STATE OF DROUGHT EMERGENCY FOR THE NORTHERN MARSHALL ISLANDS IS ELEVATED TO A STATE OF DROUGHT DISASTER, May 8, 2013:
This declaration of drought disaster alerts the international community and aid agencies which respond by sending aid workers from all over the world to Majuro, the capital of RMI, to extend their resources to the drought relief efforts. Special thanks to IOM, USAID, AUSAID, and New Zealand Red Cross, for their generous and timely assistance!
AS A MEMBER OF THE RMI DROUGHT ASSESSMENT TEAM, MOANA MARINE'S TOM VANCE JOINS ANTONIO ELIU, MERESEINI SENILOLI, HENRY CAPELLE, BART DEEMER, BARRY RILANG AND FEDERATION LANGBATA ON A TRIP TO MEJIT AND UTRIK ATOLLS, NORTHERN ISLANDS, MARSHALL ISLANDS, May 2, 2013:
Moana Marine's Tom Vance is part of the RMI Drought Assessment Team that visits the worst hit atolls to observe the conditions of both the fresh water supply and local food crops in order to make recommendations for the international relief efforts. Conditions are reported to be dire. Breadfruit and pandanus trees are dying. Salinity levels in the fresh water lens make the water unfit to drink. Water borne illnesses are on the increase, including fevers, hepatitis, diarrhea, and pink eye. Getting pure drinking water to the people is the number one priority.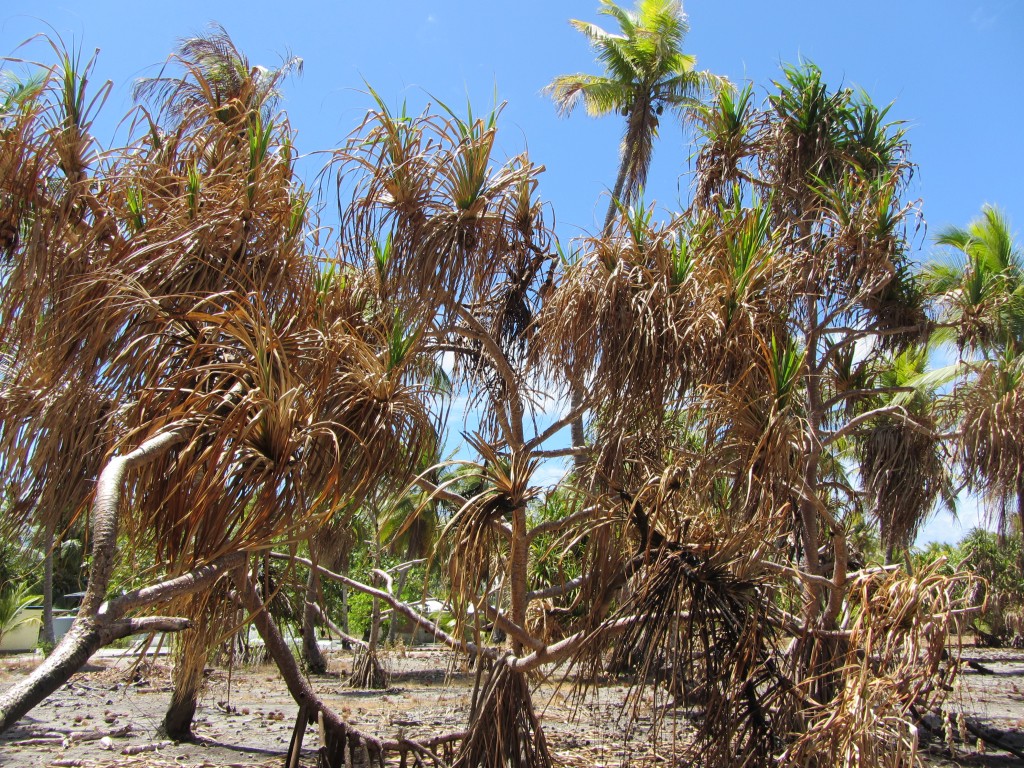 TOM VANCE IS APPOINTED NATIONAL WATER ADVISER OF THE MARSHALL ISLANDS BY THE CHIEF SECRETARY, CASTEN NEMRA, April 19, 2013:
Moana Marine's Tom Vance has been working diligently for the past five years to prepare the Marshall Islands and supporting aid agencies for the possibility of increasing drought conditions due to climate change. Recognized for his expertise and experience in R.O. and alternative energy technology in remote island environments, he is asked to step into this advisory role during this critical time.
RMI GOVERNMENT DECLARES A NATIONAL STATE OF EMERGENCY FOR THE NORTHERN MARSHALL ISLANDS FOLLOWING MONTHS OF DROUGHT, April 19, 2013:
6400 people on the Northern Marshall Islands are now affected by the drought.
INSTALLED A BERGEY 1-KW WIND TURBINE ON ABEMAMA, KIRIBATI, Jan, 2013:
Teamed up with Abemama's MP, Tiarite Kwong, Moana Marine erects the first wind turbine in the Kiribati islands.
IN TARAWA, KIRIBATI, ATTENDING MEETINGS WITH THE MINISTER OF THE ENVIRONMENT AND THE MINISTER OF HEALTH, DETAILING WATER AND ALTERNATIVE ENERGY SOLUTIONS FOR BOTH TARAWA AND THE OUTER ISLANDS OF THE KIRIBATI GROUP, Dec 2012-Feb 2013:
We focus on future planning for grid tie solar installations and R.O. units at Nawerewere Hospital in Tarawa, and R.O. water, solar energy and wind power installations in the outer islands.
2012 Projects
FIVE DAY SITE ASSESSMENT FOR R.O. AT KAJUR (KWAJALEIN ATOLL JOINT UTILITY RESOURCE) ON EBEYE ATOLL, MARSHALL ISLANDS, April, 2012:
Moana Marine inspects the condition of the R.O. and water production and distribution infrastructure at Ebeye, producing a detailed report with recommendations for maintenance, upgrades and replacement of existing machinery.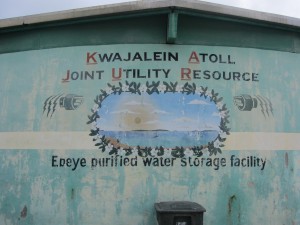 OFFICIAL HANDOVER OF EMERGENCY RELIEF WATERMAKERS FROM USAID/IOM TO THE MARSHALL ISLANDS GOVERNMENT, MAJURO, MARSHALL ISLANDS (RMI), APRIL 2012:
This ceremony, featuring US Ambassador Martha Campbell and Chief Secretary of the RMI, Casten Nemra, is the culmination of extensive dialog between Moana Marine and USAID/IOM evaluating the special needs of Pacific Island nations dealing with drought and the diminishing fresh water lens due to climate change.
The following slideshow and article highlight Moana Marine's Climate Change Solution #1: the rapid deployment of the portable, ultra-energy efficient, solar-powered, reverse osmosis, Spectra Aquifer 360 for immediate drought relief in the Pacific Island Region. Funded by USAID/ IOM and supplied by Moana Marine, 5 Aquifer 360's are deployed to drought affected atolls of the Marshall Islands:
MOANA MARINE RELEASES ITS "CLIMATE CHANGE SOLUTIONS," Feb. 3, 2012:
Moana Marine's Climate Change Solutions outline easily achievable solutions to the changing water and energy needs of remote island and village locations. See blog page for more details.
2010-2011 Projects
UTRIK ATOLL, MARSHALL ISLANDS, SOLAR, WIND, AND WATER PROJECT, May 2010-Feb 2011:
The story of Moana Marine's work bringing clean drinking water and renewable, wind and solar energy to the deserving people of this remote atoll is captured in an inspiring slideshow presentation. The installation includes 2 Spectra LB-1800 Watermakers, 2-Bergey XL.1 Wind Turbines, and Sharp P.V. Solar Panels.
MAJURO, MARSHALL ISLANDS, BERGEY EXCEL 10-KW WIND TURBINE INSTALLATION, Jan 2011:
This is the first 10-KW wind turbine to be installed on the capital island of the Marshall Islands, and it serves as a prototype for future projects in the Pacific Island Region.
MOANA WATER POINT OF USE PURIFIED WATER DISPENSING UNITS, Dec 2010-Dec 2011:
We currently have three water dispenser installations in Majuro, Marshall Islands, located at the Momotaro Store, Do-It-Best Hardware, and Long Island Complex. These units dispense fresh, pure, drinking water by the gallon, supplying clean drinking water to those who wouldn't otherwise have access, as well as providing needed back-up to the public utility in times of drought.
RONGELAP ATOLL HOUSING ALTERNATIVE ENERGY PROJECT, Jan-Nov 2011:
Moana Marine is working with the Rongelap local government planning an extensive wind and solar installation on Rongelap Atoll, Marshall Islands. Rongelap is one of the four Marshall Islands that had to be
evacuated following the US nuclear testing in the 1950's. Since that
time, the US has funded a massive restoration project to render it
once again inhabitable. A plan is in place for a new housing
development powered by wind and solar energy. Moana Marine is
committed to helping the people of Rongelap fulfill their dream of
living comfortably and peacefully on their beloved home island.
SOLAR AND WIND HYBRID SYSTEM, March-May 2011:
Moana Marine installs a Bergey XL.1 Wind Turbine and solar array on Kemmen Island in the Majuro lagoon, enabling its residents to become energy independent for a sustainable future.
UTRIK ISLAND COMMUNITY HALL SOLAR HYBRID INSTALLATION, May-Nov, 2011:
Phase 2 of Utrik Atoll's alternative energy project is underway. Plans are to add one more Bergey XL.1 Wind Turbine and install solar panels on the new community center that was funded by the Japanese government, helping create an environmentally sound and sustainable future for the Utrik Island people.